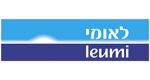 בוא לפתח קריירה בלאומי
בלאומי תמצא מגוון רחב של תפקידים מאתגרים, מסלולי הכשרה מקצועית ואפשרויות קידום לעמדות ניהוליות, והכל בסביבת עבודה דינמית ונעימה. אם אתה תושב ישראל, בעל תואר אקדמי ממוסד מוכר במקצועות: כלכלה, מנהל עסקים, סטטיסטיקה, חשבונאות, מתמטיקה, מדעי המחשב, הנדסת תעשייה וניהול או מקצוע קרוב אחר, נשמח לשמוע ממך.
מעוניינים לעבוד בבנק לאומי או חברות דומות לה? צרו איתנו קשר ונשמח להציע לכם משרות רלוונטיות!
In Leumi you will find a wide range of challenging roles, professional training programs and opportunities for advancement to administrative positions, all in a dynamic and pleasant work environment. If you are a resident of Israel, with an academic degree in one of the following subjects: economics, business administration, statistics, accounting, mathematics, computer science, industrial engineering or a similar profession, we'll be happy to hear from you.