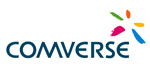 קומברס צופה עולם של תקשורת כוללת בה אנשים חופשיים לתקשר ולהשתמש בשירותים בצורה המתאימה היעילה והנוחה ביותר. המשימה שלנו היא להיות הבחירה הראשונה של ספקי שירות לפתרונות המשפרים את חוויית התקשורת הכוללת. כדי להיות הראשון, אנחנו צריכים להעסיק את הטובים ביותר. המטרה שלנו היא למשוך את הכישרונות הטובים ביותר ברחבי הגלובוס. אנשים עם חזון, יצירתיות ואנרגיה כדי להוביל את השינויים המתרחשים בענף התקשורת בכל יום.
קומברס מציעה לעובדיה שילוב ייחודי של סביבת עבודה פורמאלית ותרבות ארגונית שמעודדת העצמה אישית. עובדי קומברס נהנים מרמה גבוהה של שביעות רצון בעבודה, הזדמנויות קריירה הגלובליות, שעות עבודה גמישות וחבילת הטבות תחרותית.
לקומברס יש סניפים ביותר מ 40 מדינות ברחבי העולם. שלושת מרכזי הפיתוח העיקריים נמצאים באזור בוסטון וניו ג'רזי, ארה"ב, ובתל אביב, ישראל.
מעוניינים לעבוד בקומברס או חברות דומות לה? צרו איתנו קשר ונשמח להציע לכם משרות רלוונטיות!
Comverse is the world's leading provider of software and systems enabling value-added services for voice, messaging, mobile Internet and mobile advertising; converged billing and active customer management, and IP communications.
 Comverse's extensive customer base spans more than 130 countries and covers over 500 communication service providers serving more than two billion subscribers. Comverse is committed to be the global partner-of-choice in providing productized solutions and services that make communication service provider networks smarter to unleash the value of the network for their customers. For over 25 years, Comverse has provided a wide variety of industry-leading solutions for operators with subscriber bases of all sizes – from tier-1 carriers and operator groups with global reach to emerging greenfield operators and ISPs. These goals have been achieved with a superior solution portfolio, high-quality professional services and an extensive network of local support, including 90 local offices in over 40 countries. A Portfolio of Value Comverse's comprehensive product portfolio innovatively addresses three primary domains: Value Added Services, Billing & Active Customer Management and IP Communications. Our company tagline reflects our strong value proposition for communication service providers around the globe: Making your network smarter with productized and cost effective solutions that enable operators to leverage their network investments and externalize its value to their customers. Comverse Global Services Comverse Global Services safeguards our customers' success with an expansive range of services, enabling them to achieve and maintain speed, performance and optimal use of capital and resources.
Comverse envisions a world of Total Communication where people are free to communicate and use services in the way that is most appropriate, effective and convenient. Our mission is to be the first choice of service providers for solutions that enhance the Total Communication experience. To be the first, we need to hire the best. Our goal is to attract the best talent around the globe. Individuals with vision, creativity and the energy to lead the changes that take place in the communications industry each day.
Comverse offers its employees a unique blend of an informal work environment and a corporate culture that encourages personal empowerment. Comverse employees enjoy a high level of job satisfaction, global career opportunities, flexible hours and a competitive benefits package.
Comverse has operations in more then 40 countries around the globe. Our three major Development Centers are located in the Boston area, Massachusetts, USA, in New Jersey, USA, and in Tel Aviv, Israel.